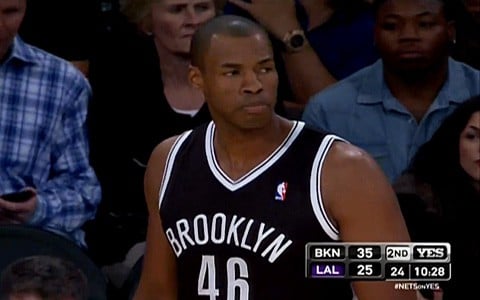 The NBA will soon do something uncommon for a player signed to a 10-day contract: sell that player's jersey.
But there is "unprecedented" demand for apparel bearing the name of Jason Collins, the first openly gay player in the NBA, the NYT reports:
On Monday, inquiries by those eager to buy a Nets jersey with Collins's name started to multiply. On Tuesday, Collins jerseys will go on sale at the N.B.A.'s retail shop in Manhattan and at NBAstore.com.
Collins's jersey number of choice is 98, in honor of Matthew Shepard, a gay college student from Wyoming who was murdered in 1998. But on Sunday, when the Nets acted quickly to get Collins in uniform for a game against the Los Angeles Lakers, they had to resort to a generic jersey the team travels with in case of emergencies.
As a result, Collins wore No. 46 in the Nets' 108-102 victory over the Lakers, a game in which he logged 11 minutes, grabbed two rebounds and finished with an impressive plus-8 for his time on the court. On Tuesday, Collins will get to have his first practice with his new teammates. On Wednesday, he will presumably be wearing a No. 98 uniform in Portland against the Trail Blazers.
According to the NBA, fans will be able to buy Collins apparel online starting today.
NBA to sell Jason Collins jerseys including women's & kids. Not common for player on 10-day deal pic.twitter.com/uafzxnIkm2

— darren rovell (@darrenrovell) February 24, 2014