NBC News is reporting that Arizona Governor Jan Brewer is "likely" to veto SB 1062, the bill that would allow businesses to discriminate against gays based on religious beliefs, citing three people closet to Brewer.
NBC reports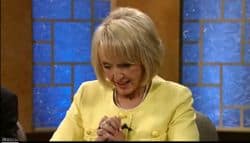 :
One of those is longtime Brewer political adviser Chuck Coughlin, who told NBC News: "It's been her proclivity in the past to focus on the priorities she wants them [the legislature] to accomplish, and this was clearly not part of her agenda."
"She doesn't want to take any actions that could jeopardize the economic momentum we've seen here in Arizona," said another person close to the governor.
The economic consequences would be vast. In addition to likely losing the Super Bowl, more than 83 companies and business coalitions including Apple and American Airlines have come out against the draconian bill.
Brewer told CNN's Dana Bash yesterday:
"I have a history of deliberating and having an open dialogue on bills that are controversial, to listen to both sides of those issues, and I welcome the input, and information that they can provide to me. And certainly I am pro-business, and that is what's turning our economy around, so I appreciate their input, as I appreciate the other side…I have to look at what it says, and what the law says, and take that information and do the right thing, but I can assure you, as always, I will do the right thing for the state of Arizona."