Putin says Russia's Olympics "risk" paid off: "It was important to show that we are a country with goodwill which knows how to meet guests and create a celebration not just for itself but all sports fans in the world."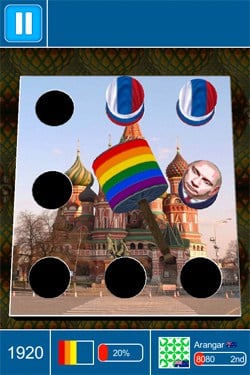 Whack-a-Putin game smashes Vlad: "You control the righteous hammer of human rights and are in charge of knocking down the person who wants to destroy what it stands for. React too late and he takes it from you. Keep him down and you are rewarded! Try not to knock the Russian people, as they have the right to be heard."

Daniel Radcliffe has a very bushy mane.

Jake Gyllenhaal has a very bushy beard.

Texas school district pays $77,500 to settle a lawsuit filed by a lesbian student who said her coaches outed her to her mother: "The agreement puts into place important protections for students and their privacy rights, and the school district's official policy will prohibit exclusion by sexual orientation."

Guess which music video has been viewed a record-breaking 1 billion times?

Victory Fund to back two gay Republican candidates for Congress: "The Gay and Lesbian Victory Fund on Tuesday will announce that it is backing former Massachusetts state senator Richard Tisei and former University of New Hampshire dean Dan Innis, according to an announcement shared early with The Washington Post…A third openly gay Republican running in a top race, former San Diego mayoral candidate Carl DeMaio, will not receive the group's endorsement Tuesday. DeMaio has perhaps the best chance at winning a seat in Congress, among the three."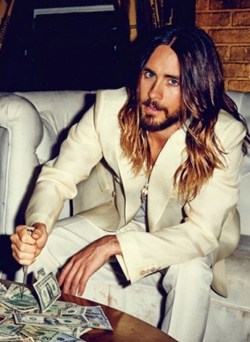 Jared Leto talks Dallas Buyers Club with Flaunt magazine.

Patricia Heaton accepts interview with AFA's Bryan Fischer, then pulls out.

Some in San Diego's LGBT community don't embrace Carl DeMaio: "LGBT activist Will Rodriguez-Kennedy is a Republican-turned-Democrat and former president of the local chapter of Log Cabin Republicans, a Republican gay rights advocacy group (he resigned after making a purchasing mistake with the group's debit card). Rodriguez-Kennedy views the ad as political opportunism and said DeMaio does not have a track record of advocating for gay rights."

A GOP Idaho lawmaker has wisely withdrawn an Arizona-style 'license to discriminate' bill from consideration.

As has a lawmaker in Indiana.

Tim Gunn on trans fashion models: "The fact that fashion designers would put basically adolescent-shaped boys or men in women's clothes is head-scratching for me because, anatomically, women and men have different shapes…So, to be looking at women's fashion on a tall, skinny guy with no hips, there's no way you can project yourself into those clothes."

Kylie Minogue discusses her new album Kiss Me Once.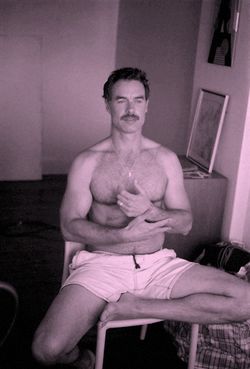 An interview with Looking's Murray Bartlett (warning: link is work-friendly but site is not) on roast chicken and faking orgasms.

Will the West's outcry over Uganda's anti-gay law do more harm than good? "In an interview earlier this month, prominent Ugandan gay rights activist Frank Mugisha told Think Africa Press that he appreciates outside support but fears further scapegoating if aid is suspended. Western rhetoric and actions could help promote a further backlash against the LGBTQ community."

Jesuit editors condemn anti-gay laws, attacks in Africa.

NYC City Council boycotts St. Patrick's Day parade: "St. Patrick's Day has traditionally been a day when everyone can be Irish. Unfortunately, in New York City the Hibernians seem to have disavowed that old Irish tradition and have not allow LGBT people to march in the 5th Avenue St. Patrick's Day parade under their own banner for more than 20 years. In Ireland, not only do gay groups march but they often win awards for the best contingent. The Hibernians must return to their Irish roots and heritage, become hospitable and allow LGBT groups to fully participate. Enough is enough. I am extremely proud that the NYC Council under the leadership of Speaker Melissa Mark-Viverito has taken a strong stand against bigotry and will not participate in the parade until LGBT people are treated equally."