On Wednesday Colorado saw the filing of a second lawsuit challenging its ban on gay marriage, the Denver Post reports: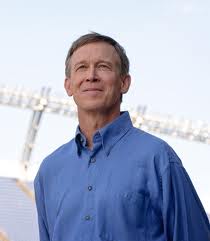 The lawsuit filed Wednesday names Gov. John Hickenlooper (pictured) and Denver City Clerk Debra Johnson as defendants. Currently Colorado permits civil unions between gay couples, but the Colorado constitution bans gay marriage.
"This denial of equal protection, due process, and basic fairness violates the Constitution of the United States of America," says the lawsuit filed by the law firms of Reilly Pozner, Law of the Rockies and Gutterman Griffiths.
Colorado's attorney general John Suthers told the Denver Post he will defend the state's ban.
The AP adds:
According to the lawsuit filed Wednesday in Denver District Court, four of the couples applied for marriage licenses in Denver in recent days, one pair on Valentine's Day. The other five married in states where such unions are legal but live in Colorado, where "their valid marriages are reduced to second-class and unequal civil unions, which do not afford them the same rights, protections and security as marriage," the lawsuit says.
Read the complaint here.
Last October, Dr. Rebecca Brinkman and her partner Margaret Burd filed a suit against Colorado seeking the freedom to marry.