Actor Chris Brochu will be joining The Vampire Diaries along with Hellcats star Heather Hemmens, E! News reports: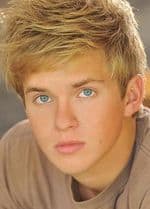 Hemmens, who recently appeared on Grey's Anatomy, will take on the role of Maggie, Enzo's (Michael Malarkey) love interest, while Brochu will play the fun and charming Luke, a student at Whitmore college who bonds with Elena (Nina Dobrev) and Caroline (Candice Accola). But relax, Delena, Stelena, Klaroline and Forwood fans because there's no chance for romance between Luke and one of the ladies as he's gay. Also, he has a secret agenda.
Brochu, who has appeared on CSI: NY, NCIS: Los Angeles and Melissa & Joey, will make his TVD debut in episode 16 and is set to appear in multiple episodes. And while fans are sure to initially like Luke as much as Elena, Caroline and Bonnie (Kat Graham) do, we'll eventually learn he's come into the girls' lives for mysterious and dangerous reasons that has to do with the growing tension between the witches and the travelers.
Creator Kevin Williamson has said he wanted a gay character on the show since 2010 but said he didn't want it to be a coming out story:
"It's one of those things that needs to feel organic and seamless. I don't want it to be a character that comes in and is a one-off. I want someone to come in and have a reason and a purpose and really push that story forward the way I want to do it, and they're so important to the story that without them the show won't happen. That's what I want."