Three countries have made moves restricting AID to Uganda after President Museveni's signing of the anti-gay bill, Al Jazeera reports: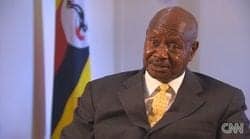 The Netherlands froze a $9.6m subsidy to Uganda's legal system, arguing that "if the judiciary is to enforce such laws, we do not wish to assist that process". Denmark and Norway said they would redirect around $8.5m each in government aid towards private sector initiatives, aid agencies and rights organisations.
U.S. Secretary of State John Kerry has said that the U.S. is "beginning an internal review of our relationship" in a statement released yesterday. The British Foreign Secretary has denounced the bill and said it would "continue to press the Government of Uganda to defend human rights for all."