NYC Mayor Bill De Blasio says he'll continue a personal boycott of the St. Patrick's Day parade because of its "exclusion of some individuals in the city," Politicker reports: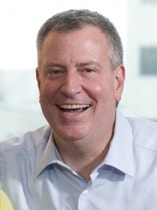 Said De Blasio:
"No I am not planning on marching in the parade, I haven't in the past in my capacity as a public official," he added. "I will be participating in a number of other events to honor the Irish heritage of this city … But I simply disagree with the organizer of that parade in their exclusion of some individuals in the city."
The mayor says, however, that he won't stop uniformed city workers from doing so:
"I believe that uniformed city workers have a right to participate if they choose to. And I respect that right."
The parade bars the participation of gay groups.
Gay City News had called on the mayor to ban uniformed workers from marching in an open letter signed by many LGBT rights organizations
The presence of uniformed police and firefighters in such a procession sends a clear signal to LGBTQ New Yorkers that these personnel, who are charged with serving and protecting all New Yorkers, do not respect the lives or safety of LGBT people. It confirms the practice of the NYPD and FDNY at times of targeting certain communities for discrimination. What's more, it betrays the current work of high level government agencies and human rights advocates working internationally against the current wave of extreme anti-LGBTQ legislation and discriminatory practices occurring in countries such as Nigeria, Uganda, and Russia.
Indeed, legal precedent on this matter, in Pappas v. Giuliani, 290 F.3d 143 (2d Cir. 2002), says: "The effectiveness of a city's police department depends importantly on the respect and trust of the community and on the perception in the community that it enforces the law fairly, even-handedly, and without bias. If the police department treats a segment of the population of any race, religion, gender, national origin, or sexual preference, etc., with contempt, so that the particular minority comes to regard the police as oppressor rather than protector, respect for law enforcement is eroded and the ability of the police to do its work in that community is impaired."