A new study reveals that gay and bisexual teens are using steroids at a rate six times higher than their straight peers, the AP reports: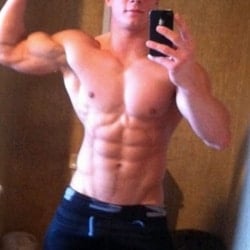 Reasons for the differences are unclear. The study authors said it's possible gay and bi boys feel more pressure to achieve a bulked-up "ideal" male physique, or that they think muscle-building steroids will help them fend off bullies.
Overall, 21 percent of gay or bisexual boys said they had ever used steroids, versus 4 percent of straight boys. The difference was similar among those who reported moderate use — taking steroid pills or injections up to 40 times: 8 percent of gay or bi teens reported that amount, versus less than 2 percent of straight boys. The heaviest use — 40 or more times — was reported by 4 percent of gays or bi boys, compared with less than 1 percent of straight teens.
The study was released in the journal Pediatrics and is culled from government surveys between 2005 and 2007 involving 17, 250 teen boys with an average age of 16, 635 of whom were gay or bi. Although the data was collected six years ago, experts believe the results remain consistent in today's youth:
Dr. Rob Garofalo, adolescent medicine chief at Lurie Children's Hospital in Chicago, said the differences aren't surprising, since it is known that gay youth often have "body image issues." But he said, "It is still shocking. These are dramatically high rates."