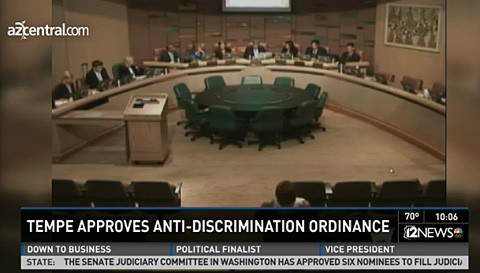 Tempe, Arizona has passed an LGBT anti-discrimination ordinance, the Arizona Republic reports:
In interviews with The Arizona Republic, Tempe Mayor Mark Mitchell and other council members said the GOP-controlled Legislature is out of touch with its constituents.
The council's 7-0 vote was "another action that shows we don't discriminate in our community," Mitchell said Thursday. "We're moving in the right direction in terms of equality."
The city ordinance bans discrimination in housing, employment and accommodations at restaurants and hotels, but includes exceptions for religious organizations and social clubs.
Businesses or individuals that discriminate in Tempe on the basis of gender identity, sexual orientation, race, color, gender, religion, national origin, familial status, age, disability and U.S. military veteran status face a civil sanction with a fine up to $2,500.
Three other Arizona cities – Phoenix, Tucson, and Flagstaff – have similar laws.