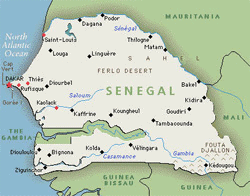 Two men in Senegal were sentenced to six months in prison each, for being gay, the AP reports:
The two were arrested after neighbors alerted police to their home in Grand Medine neighborhood of Dakar, the capital.
In court Friday the two men acknowledged having sex. Judge Racky Deme sentenced them under Senegal's penal code that calls for prison sentences of up to five years and fines of up to $3,000 for committing "an improper or unnatural act with a person of the same sex."
Last June, President Obama visited Senegal on a trip to Africa and spoke out about the country's criminalization of homosexuality.
Said Obama: "People should be treated equally."
President Mack Sall of Senegal replied: "We are still not ready to decriminalize homosexuality. I've already said it in the past. We're still not ready to change the law. This does not mean that we are all homophobic."
That position was echoed by Senegal's Justice Minister Sidiki Kaba in September.
In November, the European Court of Human Rights ruled that persecuted gays in Uganda, Senegal, and Sierra Leone have grounds for asylum in the European Union.