On Wednesday, Uganda's health minister, Ruhakana Rugunda, told reporters that gays will continue to be eligible for medical services despite the country's recent passage of a law imposing harsh sentences against gays and those who fail to report them. The AP reports: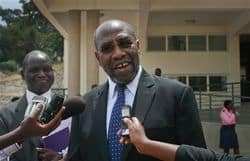 Rugunda said that a clause which would have required medical workers to report homosexuals to police was removed from the bill that became law on Monday.
"We are saying that as far as health is concerned, they are at liberty," he said, talking about gays. "They should give full disclosure to their nurses … We do not discriminate against patients on the basis of sexual orientation. That's why we are encouraging gay Ugandans to take advantage of the health systems."
Pepe Julian Onziema, a prominent gay activist in Uganda, said that extreme prejudice against gays who seek health care will continue to be a problem despite Ruganda's assurances. 
"I once went to a clinic where I stayed in the queue (line) for hours and people who came after me were being served," he said. "You stand in the queue and they ignore you. And you hear them saying, 'That is a gay person. We can't serve him. We shall not serve him.'"
On Tuesday, the country's Red Pepper tabloid published a list of "Uganda's 200 Top Homos"