U.S. District Judge Orlando Garcia heard arguments this morning in San Antonio in a lawsuit challenging Texas' ban on same-sex marriage but did not immediately rule, Lone Star Q reports: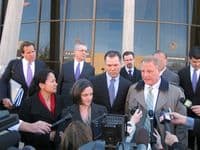 "Counselors have made some excellent arguments on both sides," Garcia said inside a packed courtroom at the federal courthouse in San Antonio at the conclusion of the hearing.
Outside the courthouse moments later, the two same-sex couples who are plaintiffs in the federal lawsuit challenging the marriage bans — Cleopatra DeLeon and Nicole Dimetman, and Mark Phariss and Victor Holmes — addressed the media.
"I think it's interesting that the state points out that the voters approved a constitutional ban in 2005," Phariss said. "The voters also throughout the entire nation approved approved a constitutional amendment, the 14th, in 1868, that provides for equal protection under the law. And that provision in the U.S. Constitution trumps anything that Texas does."
Garcia said a ruling "will be forthcoming at some time."
John Wright at Lone Star Q plans to have some analysis of the arguments up later.