The last we heard from Alec Baldwin, he'd vowed to leave public life amid the controversy and subsequent cancellation of his MSNBC show last fall which resulted from his use of an anti-gay slur. Now, he's back in the news and has announced his involvement in a film project about a high-profile gay man.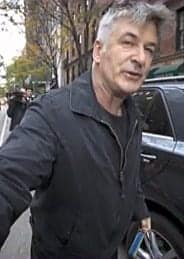 According to Deadline Hollywood, Baldwin will executive produce Compared to What: The Improbable Journey of Barney Frank, a documentary about Barney Frank. The film will reportedly profile the former Massachusetts congressman "as he discusses the role his homosexuality played in his campaigns for social justice."
Compared to What will play at the Tribeca Film Festival next month where Baldwin will also participate in a post-screening Q&A alongside Frank.
Baldwin also claims that the former congressman is someone whom he admires:
"Barney Frank is a personal hero of mine," he said in a statement. "His legacy in Congress – and his historic importance as the first openly gay and married Congressman – important for our country."
Compared to What will premiere at Tribeca on April 27, 2014.