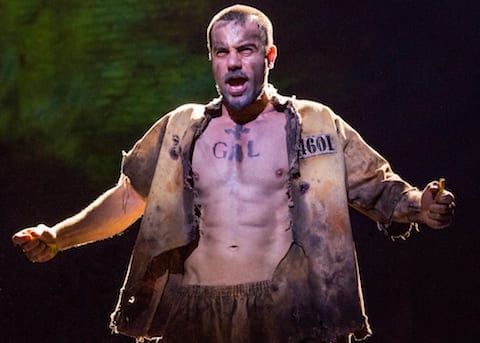 BY NAVEEN KUMAR
Yes, she's back: That tri-colored sketch of a girl staring forlornly off into the distance, heralding the inexorable return of Les Misérables to Broadway. Before you roll your eyes or brace yourself for another dizzying go round of the mega-musical's signature turntable, the latest incarnation, billed as a "new" production that arrived at the Imperial Theatre March 23, might surprise you.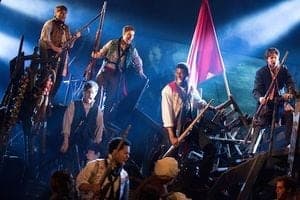 Firstly, you can leave the Dramamine at home because the turntable's been nixed. Co-directors Laurence Connor and James Powell, who toured their production internationally before bringing it to New York, have rejiggered the musical's priorities to focus on making its epic story clear and to showcase the powerhouse vocal performances of a bracingly talented cast.
First staged on Broadway by Trevor Nunn and John Caird in 1987, the original Les Mis ran until 2003, followed by a premature and short-lived revival of the same production three years later. Under new direction, the sung-through behemoth's latest return will surely capitalize on the success of last year's up close and personal big screen adaptation.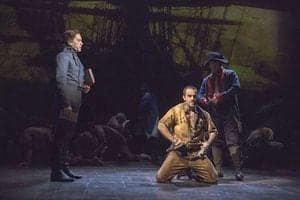 Led by a vigorously dashing Ramin Karimloo in the role of fugitive turned everyman hero Jean Valjean, the company delivers many of the musical's best-loved solo show-stoppers with the power of a winter gust that catches in your throat and blows your hair back. Call it the American Idol effect at its most worthy, with mercilessly few of the showy pop stylings that have been creeping steadily onto Broadway vocals.
The story, based on Victor Hugo's novel and written for the musical stage by Claude-Michel Schönberg and Alan Boublil, remains unaltered—spanning nearly 20 years (and three hours in real time). Valjean, a petty thief with a tarnished heart of gold, is chased around early-nineteenth-century France by maniacally staunch policeman Javert (Will Swenson, in top form), a pursuit that reaches its climax behind the barricades of the June Rebellion of 1832. Everyone is profoundly unhappy and—spoiler alert!—most of them die.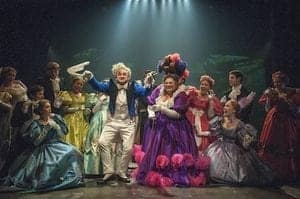 While the sprawling story requires a certain sized canvas, Conner and Powell's production feels big but uncluttered, and more fluid than needlessly busy. Matt Kinley's scenic design incorporates dynamic projections of Hugo's own sketches, many with the same churning emotional vibrancy of paintings by J. M. W. Turner, Hugo's British contemporary. Vivid, picturesque lighting by designer Paule Constabile adds both physical and psychological depth.
But it's robust, sensitive vocal performances by the principal company that elevate this revival above the last, and enhance the thrill of seeing the well-worn tale return to the stage from the Cineplex. Mr. Karimloo, making his Broadway debut after lauded work on the West End, delivers a particularly stunning performance of "Bring Him Home" and Mr. Swenson is likewise remarkable in a commanding rendition of "Stars."  
With few exceptions, the rest of the principal cast is strong as well, including a fine voiced Caissie Levy has Fantine, and Cliff Saunders and Keala Settle as a fantastically lewd and sinister Thenardier duo. The production's more modest orchestrations (the electric piano's also been nixed) put focus on the voices, so you can actually hear the people sing—which is fortunately the best part.  
Recent theatre features…
New Musical 'Rocky' Opens On Broadway: REVIEW
Bryan Cranston Goes 'All the Way' On Broadway As Lyndon B. Johnson: REVIEW
Possessed Puppet Satire 'Hand to God' Opens Off Broadway: REVIEW
New Musical 'The Bridges of Madison County' Opens On Broadway: REVIEW
Pulitzer Prize Winning 'Dinner With Friends' Opens Off Broadway: REVIEW

Follow Naveen Kumar on Twitter: @Mr_NaveenKumar (photos: matthew murphy, michael le poer trench)