In 'what were they thinking' news, two CNN producers tried to breach security at the World Trade Center in broad daylight and were arrested, the NYT reports: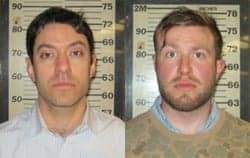 The two men, Yonatan Pomrenze, 35, and Connor Fieldman Boals, 26, were seen repeatedly trying to get in, said Joseph Pentangelo, a spokesman for the Port Authority of New York and New Jersey, which operates the site…
The men were presumably trying to 'test' security at the site after two recent incidents in which a teen broke in at night and climbed to the top, and three BASE jumpers and an accomplice made a daredevil skydive from the tower:
The CNN employees, however, were trying to enter the property around 2 p.m., as the area teemed with construction workers, tourists and police officers. They carried a video camera on a tripod and a GoPro, a smaller camera often attached to the user, Mr. Pentangelo said.
According to the NY Post: "A CNN spokesperson said Boals and Pomrenze 'were not asked to sneak onto the World Trade Center site.'"