The quickly escalating anti-gay trend in many African countries, including Uganda, has tacked on a new bill, this one aimed at increasing the potency of a law already in place.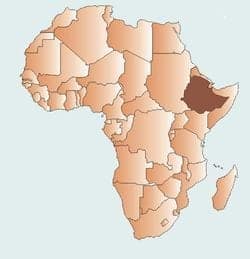 Legislation states that Ethiopians found guilty on charges of same-sex acts can be imprisoned for up to 15 years, and persons found guilty of engaging in same-sex acts which transmitted HIV are susceptible to 25 years. Now, the Council of Ministers will likely approve a bill which would make those persons unpardonable by the president.
Mail & Guardian reports:
Ethiopia's president often pardons thousands of prisoners during the Ethiopian New Year. When the Bill becomes law, the president will lose his power to pardon prisoners facing charges ranging from homosexuality to terrorism.
As always, it is particularly disturbing to see homosexuality placed alongside inherently violent acts, though we should not forget that the equation has deep roots in American evangelism as well.
Uganda's lesbian, gay, bisexual, transgender and intersex community credits evangelical Christian pastors with sparking the anti-gay sentiment that led to the present-day legal repercussions for homosexuals in the country.
Hopefully the bill loses the battle. We will keep you updated.