The Ninth Circuit Court of Appeals has set April 9, 2014 for oral arguments in Sevcik v. Sandoval, the lasuit challenging Nevada's ban on gay marriage, Lambda Legal reports via press release: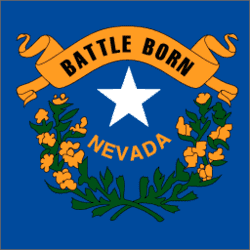 "This is great news for our couples who have been working so long to have their case heard. We're very excited to make the case for equality at the Ninth Circuit."
Last month, Gov. Sandoval and  Carson City Clerk-Recorder Alan Glover withdrew their arguments in support of the marriage ban after the Ninth Circuit's ruling in SmithKline Beecham v. Abbott Laboratories that discriminatory classifications based upon sexual orientation must receive heightened scrutiny and should be presumed unconstitutional. The heightened scrutiny standard is much more difficult to meet and rendered the state of Nevada's arguments in its original brief defending the marriage ban "no longer tenable in the Ninth Circuit," as Nevada's Attorney General conceded in a statement released last week. The withdrawal of the two government defendants leaves only the Coalition for the Protection of Marriage, which the U.S. District Court had allowed to intervene, defending the marriage ban.
In Sevcik v. Sandoval, Lambda Legal, joined by pro bono co-counsel from O'Melveny & Myers LLP and Snell & Wilmer LLP, represents eight same-sex couples challenging Nevada's law banning marriage for same-sex couples. The lawsuit argues that barring same-sex couples from marriage violates the Due Process and Equal Protection Clauses of the U.S. Constitution. A U.S. District Court judge granted Nevada Gov. Brian Sandoval's motion to dismiss the lawsuit in November 2012, and Lambda Legal appealed the decision to the Ninth Circuit. The State submitted its brief supporting the marriage ban to the Ninth Circuit on the same day as the Court's ruling in SmithKline.
UPDATE from Lambda Legal:
The Ninth Circuit Court of Appeals this afternoon updated its calendar for April 9, 2014 and has removed Sevcik v. Sandoval from the calendar for that date. Oral argument of the appeal will be rescheduled, but no new date has yet been set.