Gordon Fox, the gay Rhode Island House Speaker who helped bring marriage equality to the state in 2012, has resigned from his leadership post and will not run for re-election following a federal raid of his Statehouse office and home as part of a criminal investigation. AP reports: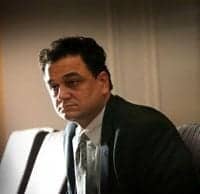 "Because of the respect I have for all members of the House of Representatives, I am resigning as Speaker," Fox said in a written statement emailed to reporters. "The process of governing must continue and the transition of leadership must be conducted in an orderly manner."
The 52-year-old Providence Democrat, who became the nation's first openly gay House speaker in 2010, said he planned to serve out the remainder of his term through the end of the year, but that "my personal focus going forward will be on my family and dealing with the investigation."
The Friday raids were carried out by the U.S. attorney's office, FBI, IRS and state police. Officials have yet to comment on the nature of the investigation.
Earlier this year, Fox ran into trouble with the state ethics commission for failing to disclose more than $40,000 in legal work for a Province economic development agency. He agreed to pay a $1,500 fine.