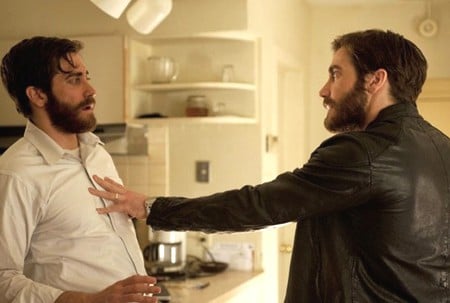 Jake Gyllenhaal can't believe his eyes and doesn't see eye to eye… with Jake Gyllenhaal
Have you ever read Jose Saramago's "Blindness"? That genius novel, about a sudden epidemic that renders the whole world blind, is hugely unsettling in content. It's also experimental in form. No character is named, the two protagonists are only referred to as "The Doctor" and "The Doctor's Wife", and punctuation is so scarce that there's nothing to guide you; you have to feel your own way through the blocks of words. The film version in 2008, which starred Mark Ruffalo and Julianne Moore, was too traditional in execution and couldn't capture the mad confusion and haunting power of the book. I haven't read Saramago's novel "The Double" upon which the new film Enemy is based but no one is playing it safe in the transfer this time. This is the kind of movie that feels like a true transfer of surreal text to visuals.
Who is Jake Gyllenhaal playing and why are there two of him?
The incomplete answers are AFTER THE JUMP…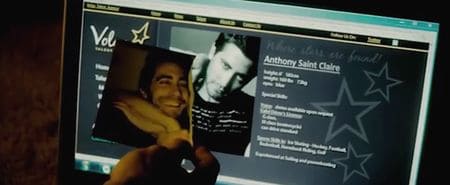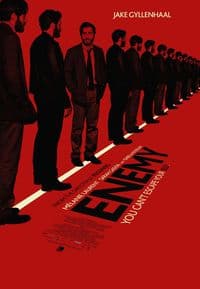 When I attended the Toronto Film Festival last fall, I didn't know what to make of Denis Villeneuve's hallucinatory thriller, which is as far removed from his other recent mainstream thriller (Prisoners, reviewed) as it could be. As far as I can tell the new movie is about a university teacher (Jake Gyllenhaal) who, while absentmindedly watching a video at home, sees a movie actor (Jake Gyllenhaal) who looks exactly like him. His initial shock gives way to curiousity and then to obsession. Things only get weirder and more mysterious from there. 
At first all I could think of to describe the movie was other movies, jotting down this short description: 
"Take Jake Gyllenhaal's endlessly curious puzzle-loving journalist in Zodiac and bring along that film's evocative cinematography and color palette. Split Jake in two with one version schlumpy and Adam Goldberg-like and the other cockier like Ryan Gosling on a motorbike. Mix in a disorienting trip to Eyes Wide Shut's plinking-soundtrack'ed 'sex party'. Plop the rest of the film down into four separate settings, Talent Agency and University and two Gyllenhaal Apartments and make sure that all of them are as nondescript and sterile as the stockbroker firm in American Psycho. Throw in a curveball with inexplicable out-of-time trips to a Video Rental Store. Add two glazy blonde love interests (Melanie Laurent and Sarah Gadon) who are both confusingly disappointed; You're sleeping with Gyllenhaal, and possibly even Gyllenhaals, ladies. Cheer the fuck up!"
But that's more like a flailing 'what is it?' cry than a useful take. It doesn't do Enemy justice since it's often so singular a film experience. This Kafkaesque confrontation between two men who are exactly the same, only not, is as propulsively compelling as it is offputting – for a film as crazy as this one, it's too glum-faced. But it's mercifully paced at a very tight 90 minutes and full of surprises and a perfect unthinkable ending. Which is why we're not going into plot descriptions. Not that descriptions of the plot are any way to understand this sort of thing.
Six months later I'm not sure I'm any closer to decoding Enemy, opening this weekend, and keep flashing back to a cameo from Isabella Rossellini as Jake Gyllenhaal's mother as if it's a rosetta stone. But which Jake Gyllenhaal is her son? I'm haunted worrying that there's no right answer. Enemy shapeshifts that way after you watch it. It's such a disorienting experience we may need Jake Gyllenhaal, the Zodiac-iteration, to help decode it.
Back to the movie theater, then, for a second helping of Jake Gyllenhaal, who's already doubled. That makes something like eight Jake Gyllenhaals but never complain about abundance. .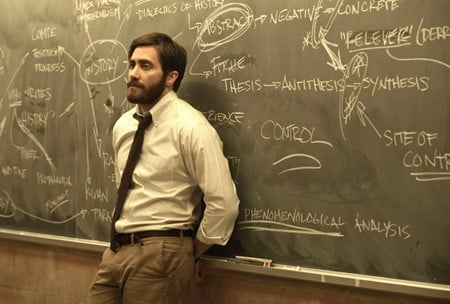 BONUS SCENES


Have you heard about the casting of Rooney Mara as "Tiger Lily" in the new Peter Pan film from Joe Wright (Atonement)? When will Hollywood learn to stop white-washing ethnic roles? There are plenty of capable actors of all ethnicities. The film already has a bankable star in Hugh Jackman as Captain Hook can surely afford to have a Native American actress in a supporting role.

Were you upset that Leonardo DiCaprio lost the Oscar last week? Cry along with him!

 Austin is a movie-loving town. These films won the most buzz at SXSW Festival.

 AMC is betting on Lee Pace to be the new Jon Hamm. He's headlining their next drama series "Halt and Catch Fire" which starts right after Mad Men ends this summer. 

  Oscar winner Lupita Nyong'o might be in the next Star Wars film

 And finally, if you still need more Jake Gyllenhaal you are my kind of people so take a trip back through his 24-film career. How many have you seen? 
Nathaniel Rogers would live in the movie theater but for the poor internet reception. He blogs daily at the Film Experience. Follow him on Twitter @nathanielr.