Illinois' marriage equality law can take effect statewide immediately, according to guidance issued Tuesday by Attorney General Lisa Madigan, the Sun-Times reports: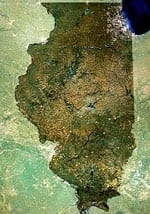 In a letter to Macon County Clerk Stephen Bean dated Tuesday, Madigan wrote that "the protections guaranteed by the Constitution must exist without regard to county lines."
Bean wrote to Madigan's office after U.S. District Judge Sharon Johnson Coleman ruled on Feb. 21 that Cook County could immediately begin issuing marriage licenses to same-sex couples. That ruling, in Lee vs. Orr, applied only to marriages in Cook County because the class-action suit was filed against Cook County Clerk David Orr.
"For the reasons explained in more detail in the legal papers filed in the Lee case, my office's position is that current Illinois restrictions against same-sex marriage violate the equal protection rights that belong to all citizens under the United States Constitution," Madigan's letter said.
The letter goes on to say that although the ruling in Lee is not binding on other counties, a "consistent stream" of federal court rulings have declared restrictions against same-sex marriage unconstitutional.
The marriage equality law was not supposed to take effect until June 1. Cook County and Chicago began issuing licenses last month after a judge's ruling.