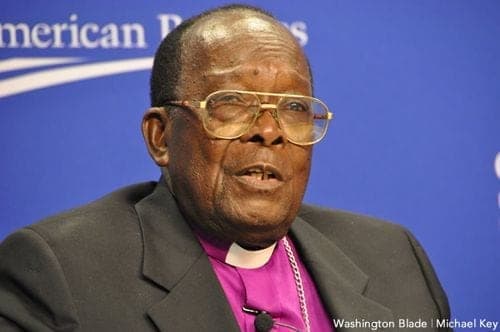 An Anglican cleric is making a name for himself in Uganda by doing something few others in his profession will: ministering to gays.
Rev. Christopher Senyonjo's makeshift church in the Ugandan capital of Kampala has  attracted many gays who are familiar with his sympathetic views in a country where anti-gay religious fervor has encouraged public anger and violence against homosexuals. The AP reports:
"They said I should condemn the homosexuals," he said, referring to Anglican leaders in Uganda. "I can't do that, because I was called to serve all people, including the marginalized. But they say I am inhibited until I recant. I am still a member of the Anglican church."
In a statement earlier this year, the head of the Anglican church in Uganda, Archbishop Stanley Ntagali, said the church was committed to offering "healing and prayer" for individuals "who are confused about their sexuality or struggling with sexual brokenness."
Senyonjo disagrees with that stance, arguing that because "in every society there is a small number of people who have homosexual tendencies," gays can't be expected to change their sexual orientation.
The AP adds Senyonjo's relationship with his country's Anglican church has been strained as a consequence of his ministry. The country's gay community, however, has embraced him as "an elder" of sorts.
"Our relationship is one of giving support to each other. The backlash that we receive is equally the same," said Pepe Julian Onziema, a prominent gay leader in Uganda, who added that Senyonjo has taken "a very courageous and brave stand."