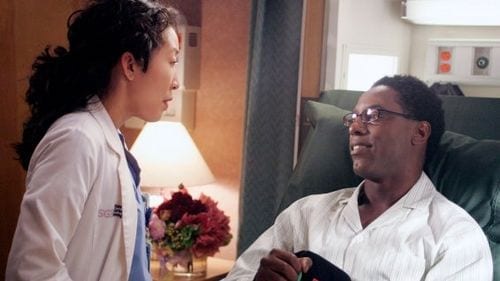 Seven years after he was fired for using a gay slur toward co-star T.R. Knight, Isaiah Washington is returning to Grey's Anatomy, according to The Hollywood Reporter:
Washington will return to guest star for a May episode of the medical drama seven years after he was fired from the series following on-set clashes and anti-gay remarks directed at then-closeted co-star T.R. Knight.
His return to the series comes as Grey's is preparing to say farewell to one of its original and most beloved stars, Sandra Oh, whose Cristina was at one point engaged to marry Washington's character. Oh will exit Grey'sfollowing the end of its current 10th season in May.
Washington was recently cast in The CW's The 100 – his first series regular role since his firing.
Washington recently told HuffPost Live that his life was destroyed by "an agenda" after his anti-gay remarks.
"I didn't have a choice. After the incident at the Golden Globes everything just fell apart. It literally stopped. Whatever the agenda, whatever the plan was it worked. I lost everything. I couldn't afford to have an agent. I couldn't afford to have a publicist for the crisis management to continue. I couldn't afford to continue. I went from 2 million dollars a year to residual checks. Zero. I couldn't get another apartment after I turned in my lease for my $3 million home. I had to put it in my wife's name. No one wanted to touch the name of Isaiah Washington for three years."