Figure skater Johnny Weir-Voronov and his husband Victor Weir-Voronov appeared in a New Jersey court on Tuesday to resolve a domestic violence complaint, Radar Online reports: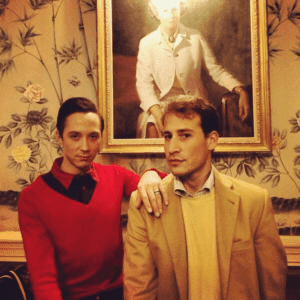 About a month before the games in Russia, Weir's husband, Victor Voronov, filed a police report in which he alleged the three-time U.S. national champion of biting him, a source revealed.
Despite the allegations, the couple appeared to have worked out their differences: Radar was in a Lyndhurst, New Jersey, courtroom on Tuesday morning, where the pair put on a united front and requested the Lyndhurst Municipal Court judge to dismiss the case.
Sitting next to each other, Voronov put his hand on Weir's knee and whispered into his ear before the case begun.
When Weir approached the bench in an unusually subdued black ensemble, the judge took note of Weir's impeccable style and apparent celebrity status, remarking: "Nice hairdo!"
The judge then reportedly asked the "victim" to approach the bench where a request to dismiss the case was granted.
(images, video instagram)