On Thursday, the U.S. Department of Justice launched an education program designed to help local police departments better understand and handle issues affecting transgender individuals.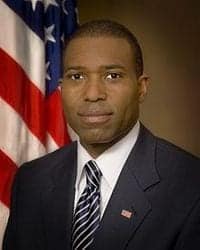 "It's clear that such a training is as necessary as it is overdue," Associate Attorney General Tony West said. "Because too often, in too many places, we know that transgender victims are discouraged from reporting hate crimes and hate violence due to their past negative interactions with and perceptions of law enforcement."
The program will be overseen by the Justice Department's Community Relations Service, which works to prevent and respond to hate crimes. Lesson plans include suggestions for addressing school bullying, and lists of do's and don'ts, with don'ts including using terms like "transvestite" and asking whether a transgender person has had "sex reassignment" or "sex change" surgery.
Harper Jean Tobin, who as policy director at the National Center for Transgender Equality helped design the program, said it was an important first step in improving how the nation's police departments address hate crimes against trans people. However, she said more work is needed in order to truly fix the problems between transgener individuals and law enforcement. 
"You can't train your way out of this problem. It's one piece of the puzzle. It's one tool that we can use," she said.