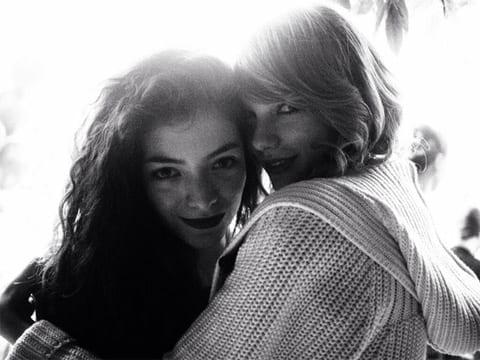 An Australian radio host got an earful from Lorde after joking about rumors that she and Taylor Swift are involved in a lesbian relationship, E! reports.
Said Kyle Sandilands of KIIS 1065's Kyle & Jackie Show:
"Are you bringing your new bestie, Taylor Swift? I see your guys' pictures everywhere. Are you guys, like, uh, are you together now?…Not together as in lesbians…I'm not talking about 'Ellen together.' I'm talking about, like, you guys are friendly, right?"
Lorde wasn't having it:
Lorde retorted, "What do you mean you're not talking about 'Ellen together?' Is there something wrong with lesbians? Is that what you're trying to say?"
Sandilands explained, "Oh my god, no, I would love that. Are you going to confirm now that you're in a lesbian relationship with her?"
"Don't ever try it. It's not working," Lorde said.