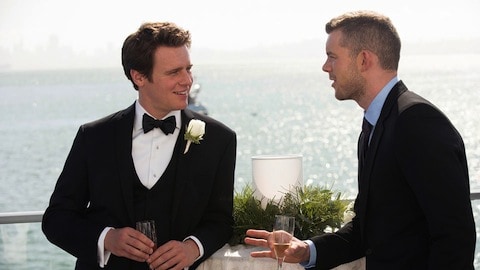 The American public is getting used to seeing gay characters proliferate on their television and movie screens. Most of us would agree, however, that these portrayals leave a lot to be desired, and that "getting used to" is not the most desirable result. A new study from UCLA's Williams Institute suggests that one way in which representation in media, continued into modern day with Looking even, has failed is in its singularly affluent understanding of gay life (How did Jonathan Groff afford that apartment all on his own the whole season? Dom may be a waiter, but he sure has a nice pad!).
The reality? Gay Americans are more likely to grow up homeless, live an impoverished adult life, and require assistance in receiving necessities like food. 
The Atlantic looked to understand "The Myth of Gay Affluence," both in terms of inaccurate representation and economic disparity. The results are a work in progress:
A new report released by UCLA's Williams Institute found that 29 percent of LGBT adults, approximately 2.4 million people, experienced food insecurity—a time when they did not have enough money to feed themselves or their family—in the past year. In contrast, 16 percent of Americans nationwide reported being food insecure in 2012. One in 5 gays and lesbians aged 18-44 received food stamps in the last year, compared with just over 1 in 4 same sex couples raising children. The LGBT community has made huge political strides over the past decade, but in economic matters they still lag far behind the rest of the country.
The researchers suppose that those political strides have encouraged people across the country, not just in wealthier urban centers, to come out, increasing the amount of respondents who would identify as LGBT and impoverished in some way. "Alabama…is poorer than Seattle," or San Francisco, or New York. Thus a widening economic disparity. Why then is the public perception skewed toward wealth?
"Corporate America was one of the first targets in terms of trying to improve policies around LGBT issues," says [Gary] Gates [author of the study], "and part of it was this idea that they needed to focus on the LGBT community as a consumer market that mattered."
Marketing firms conducted surveys to try to show not just affluence, but disproportionate levels of brand loyalty were a hallmark of gays and lesbians…In 2012, Experian, a national marketing firm, released a business report claiming that the average household income of a married or partnered gay man is nearly 20 percent more than a straight married or partnered man ($116,000 compared to $94,500).
The Atlantic cited a 2010 study, however, that showed gay men to have a poverty rate of 20.5% compared to 15.3% for straight men. The Williams Institute points to a higher amount of lower paying jobs (such as nursing and teaching) taken by gay people, a very real disparity in hiring practices, and the realities of workplace discrimination, but nothing has conclusively shown why the economic difference exists. One thing is for certain:
…equality can't and won't be achieved as long as myths and stereotypes about LGBT people continue to be perpetuated and believed.