Continuing on the trend of high-energy, dance-able songs, New York City's The Knocks are back with a new single featuring the X Ambassadors called 'Comfortable'.  They hooked up with Rogue Vogue who, true to their name, remix and create original vogue-worthy tracks as they've clearly done for 'Comfortable.'
On the heels of his label French Express' showcase at Miami's famous Winter Music Conference today, Jonas Rathsman has released 'Hope I'm Wrong'. It's a vocal-centric club banger that manages to incorporate kiddie Casio keyboard loops into a sophisticated dance track. Rathsman, though relatively new to the nu-disco scene, has shown a unique command of lush sounds, beautiful vocals and stellar production in just a short period of time.
Todd Terje returns with a surprising track featuring vocals from Bryan Ferry, lead singer of Roxy Music and known for solo work like 'Slave to Love.' The sweet track has classic 80's synths and the feel of a midtempo ballad.  Not quite what you'd expect from Terje, but it's lovely nonetheless.
'Planet Love' by Outboxx is an energetic and highly danceable track from the Bristol-based duo. They've sought out in their work to fuse back jazz's smokiness along with key-driven hooks that are a direct throwback to the classic days of house music. I look forward to hearing the rest of the tracks to come from their EP, also titled Planet Love.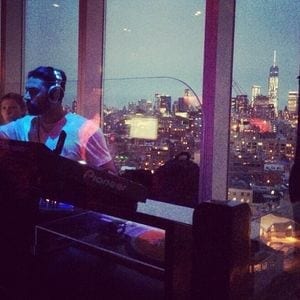 This Sunday, 3/30:  It's Our Birthday!
OXD turns 2 this Sunday, and we're celebrating the best way we know how: at our bi-weekly tea dance, Paradisco, at Le Bain at The Standard, High Line Hotel.  Fire Island legend DJ Lina is on for a guest set before she sets off to the island for the summer, along with OXD's very own members DJing the best in classic and new disco, house and dance music.  The beautiful panoramic views of the city set the perfect stage for this pre-summer sunset tea dance.  Entrance is free.  Enter through the Standard Hotel at 848 Washington Street and go to the 18th floor.  More details can be found here.
The OXD Mirror is a weekly music column brought to you by the boys of OCCUPY THE DISCO (OXD), a New York City based collective created by three music lovers, Ru Bhatt, Josh Appelbaum, and Tad Haes, who want to share their love for disco, house and dance music with the world.   
OCCUPY THE DISCO (OXD) curates and recommends music events to the gay community in NYC—in an effort to move the focus of the nightlife scene beyond the promoter and venue and to the music itself. OXD's goal is to educate, entertain, engage and empower the gay audience to reclaim their ability to question and experience the unknown. The OXD Mirror will serve to showcase tunes that are definitely off-the-beaten-path but rightfully deserve the attention of the gay ear. 
Be sure to check out these tracks and more on our Spotify Playlist. For more information on OXD, check out our website and accompanying blog at www.occupythedisco.com, like us on Facebook, or follow us on Twitter: @OccupyTheDisco.