An independent panel convened by a think tank at San Francisco State University and led by former Surgeon General Dr. Joycelyn Elders (pictured) and Rear Admiral Alan Steinman, recommends lifting the current ban on transgender service members and says Obama could lift it without congressional approval, the AP reports: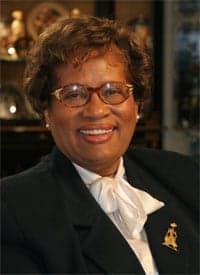 The report said Department of Defense regulations designed to keep transgender people from joining or remaining in the military on the grounds of psychological and physical unfitness are based on outdated beliefs that require thousands of current service members either to leave the service or to forego the medical procedures and other changes that could align their bodies and gender identities.
"We determined not only that there is no compelling medical reason for the ban, but also that the ban itself is an expensive, damaging and unfair barrier to health care access for the approximately 15,450 transgender personnel who serve currently in the active, Guard and reserve components," said the commission…
Thee report from the commission is to be released today.
The commission argued that facilitating gender transitions "would place almost no burden on the military," adding that a relatively small number of active and reserve service members would elect to undergo transition-related surgeries and that only a fraction might suffer complications that would prevent them from serving. It estimated that 230 transgender people a year would seek such surgery at an average cost of about $30,000.
A Defense Department spokesman told the AP there are no current plans to change the department's policy.