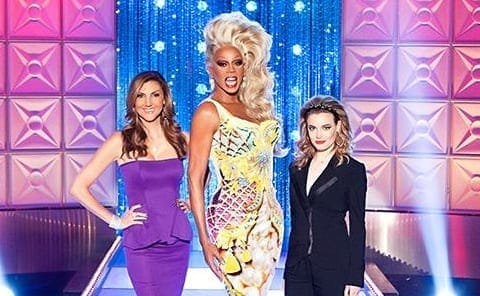 If you don't already know, Snatch Game is an annual challenge that started in season two. It's played in the style of Match Game, but the panel is made up entirely of the queens' best celebrity impersonations. As the season's have gone on, the expectations have risen (since all the gurls know by now that this is coming). A lot goes into getting this right. You've got to have your celebrity's look down. (That's usually the easy part.) Then, you need to make sure you've got a handle on their voice/mannerisms while also creating a character. The goal here is to entertain, so serving a flawless Madame Tussaud's replica is missing the point. The best deliveries amp up the most comical aspects of their celeb. On top of all that, you need to think on your feet to provide pithy answers and play off the other contestants. And to add an extra special twist this season, the queens had to create a runway look inspired by none other than Mama Ru herself.
Heather McDonald (Chelsea Lately) and Gillian Jacobs (Community) served as Snatch Game contestants and guest judges this week.
Here's our Power Rankings:
1. This week's editing was such an obvious bait and switch. BenDeLaCreme is much too smart and much too talented to go into Snatch Game without a plan. She was incredible as Dame Maggie Smith. Her responses to the contestants and her fellow queens were hilarious. Ben didn't miss a beat. Even her runway look was perfect. It was just the right blend of Ru and Ben's signature style. I totally don't buy the judges' critique that it was "another old lady." The old hag face was the least interesting part of what was a very fully-realized performance.
2. Adore's Anna Nicole Smith was some next-level impersonation. Her voice was inspired by Anna Nicole's slurry southern drawl, but she added just a little shakiness to make it her own caricature. She hit the catchphrases, sure, but she also landed some good jokes of her own. (I chuckled at her "vodcah" answer.) I agree with guest Heather McDonald and the other judges, though, that her runway look revealed she is always at least a little bit Anna Nicole. It made the Snatch Game performance less impressive, and her runway look did feel decidedly less Ru.
3. My heart still belongs to Bianca. Judge Judy is the perfect character for Snatch Game. Her look is iconic. She's funny whether you're laughing with her or at her. It could be too shouty, but Bianca had enough tricks up her robe's sleeves (that puppet!) to transcend the obvious here. Even when she's not performing, Bianca's unstoppably entertaining. I never tire of her giving the girls much-needed reality checks. My worry is that Bianca's runway looks are becoming too one-note. I got almost no Ru off her this week. Bianca is a costume designer, clearly she can do more.
4. I'm not afraid to admit my love for all things Real Housewives, so Joslyn's look tonight really hit the spot. My initial suspicion that there are more brains there than may appear has all been confirmed. The "prostitution whoreses" joke was a little predictable, but the "cumin" banter was silly and charming, and I thought the pay-off to the last name bit was great. Also, boy did she look her! Dead ringer. Her runway look, though? Womp Womp.
5. If Bianca's got one look, Darienne Lake has one face. Her Paula Deen was missing the celebrity chef's big, blue eyes. With Darienne's heavy lids and lashes, she just looked like herself, but in retirement. She also needed that Paula Deen cackle to really sell the impression. Maybe there was more to the performance we didn't see, but there was barely any mention of recipes. There were a few fat jokes, but Paula Deen is less about eating high-caloric cuisine, and more about creating it. It's a subtle difference, but it felt like a missed opportunity to really nail the character.
6. Courtney Act's Fran Drescher was a snooze. It wasn't a disaster, but it wasn't anything special, either. If the other queens weren't so heinous, she might have been in trouble.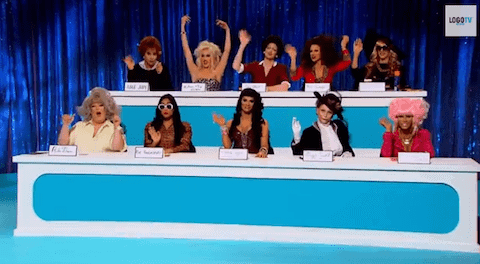 7. I think Milk's Julia Child was worse than Trinity's Nicki Minaj, but at least she took a risk on the runway. Julia Child would've needed a really strong characterization (think Alexis Mateo's Alicia Keys) to work in this context. I loved the Ru out-of-drag look on the runway, personally. While Milk hasn't given us straight-up glamour, she has showcased a variety of looks — editorial, camp and masculine — and that's more than I can say for some of these other queens. It was just disappointing to see Milk fail to be as creative with her character as she is with her outfits.
8. At least Trinity didn't try and serve us a sterile Beyoncé for Snatch Game. This Nicki Minaj lacked any kind of character (save for the wig), and I don't think she landed a single joke. (Though, she did set up a great zinger for BenDeLaCreme.) Her Untucked revelation (we'll discuss more on that next week) gives me hope that she's faced some kind of block the first few episodes. Maybe now she's ready to bring it to the competition. Her intergalactic princess party outfit in her first challenge was evidence that there's more to this pageant queen than meets the eye. I'm willing to give her a clean slate to show us what she's really got now.
9. Goodbye, Gia Gunn, you sweet, dumb queen. It was clear Gia wasn't going to make it out of the Snatch Game unscathed once she switched her choice from Selena to the dynamic, multi-dimensional character that is Kim Kardashian. Even in more clever hands, that's a tough one to pull off. Plus, her runway look was a sloppy mess. The wig was horrendous and the proportions were all off. She looked short and lumpy. Santino nailed it when he said it was a "Halloween costume in a bag."
10. You guys, I can't anymore with Laganja Estranja. I've had it. Officially. I don't usually go into Untucked here in these recaps, but, for two episodes now, Laganja has revealed herself to be an epically unlikable figure. She's oversensitive to the point of hysteria. She's the exact opposite of Bianca (which is probably why the two clash) — she's insincere and insecure. Her Rachel Zoe was inexcusable. That's a character that's a great choice for Snatch Game, and one with which most queens could easily coast into safety. Why stutter and not play up her vocal fry? It's not like no one's ever skewered Zoe before. It shouldn't have been this hard. Laganja has just got to go.
How would you rank the queens this week? Assuming you could nail the look, who would you portray if you were playing Snatch Game?