BY EMILY LODISH / GlobalPost
Ukraine says the EU dropped a requirement that the country protect 'sexual minorities' as part of visa negotiations. The EU denies it.
Ukraine is looking for a legal makeover, but it may not benefit everyone.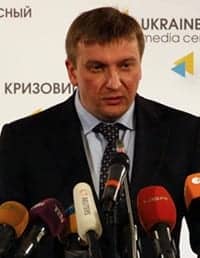 On Monday, Ukraine's parliament finalized a new anti-discrimination law, but in a worrying move for the country's LGBT community, the country's justice minister said the law would not include a clause to protect "sexual minorities."
"We did find an understanding with the European Commission on the draft law on discrimination," said Ukraine's Justice Minister Pavel Petrenko (pictured).
"And they removed their demands concerning the indication in the law of guarantees for sexual minorities."
But David Stulik, a spokesman for the European Commission delegation to Kyiv, denied the minister's claim. He told BuzzFeed that the EU had not dropped the requirement.
The law, which is part of a plan to do away with visas for Ukrainians traveling to the EU, does guarantee protection of all persons for race and religion, according to Petrenko.
Ukraine's parliament has previously considered anti-"gay propaganda" laws, though none have passed. Negotiations, it seems, are ongoing.