Fred Phelps Sr., pastor the Westboro Baptist Church, is near death, according to a message posted to Facebook by his estranged son Nathan:
I've learned that my father, Fred Phelps, Sr., pastor of the "God Hates Fags" Westboro Baptist Church, was ex-communicated from the "church" back in August of 2013. He is now on the edge of death at Midland Hospice house in Topeka, Kansas.
I'm not sure how I feel about this. Terribly ironic that his devotion to his god ends this way. Destroyed by the monster he made.
I feel sad for all the hurt he's caused so many. I feel sad for those who will lose the grandfather and father they loved. And I'm bitterly angry that my family is blocking the family members who left from seeing him, and saying their good-byes.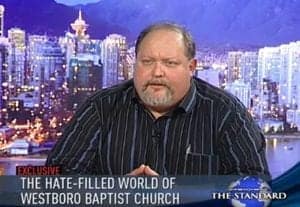 Nate Phelps, as you may recall, left the church and became an LGBT advocate.
Nate appeared on an interview a few years ago which revealed quite a bit about the church:
"In his first in-depth television interview, he tells journalist Peter W. Klein about a childhood dominated by a fear of going to hell, and says the Westboro Baptist Church shares some of the same traits as a cult. Phelps says his father regularly beat his mother and 11 siblings, used racial epithets and blamed the world's problems on homosexuality….In the interview, Phelps says that his father was once a brilliant and well-respected lawyer who led several anti-segregation cases and was honoured by the NAACP as a civil rights hero. Nate Phelps now considers himself an atheist."
You can watch the interview HERE.
Patheos adds, of the news about Fred Phelps:
I just got off the phone with Nate and he confirmed what he had written. The rumors had been flying for several weeks, he said, but after a conversation with some of his fellow "excommunicated" family members, he found out that the rumors were true. He elaborated on that final line, too, saying that the Phelps family is now blocking anyone who is no longer with the church from seeing him, including Fred's sons, daughters, nieces, and nephews.
Why was he kicked out of his own church? Did he have a change of heart near the end of his life? There's no definitive answer to that and Nate has heard different things (so any explanation is pure speculation right now).