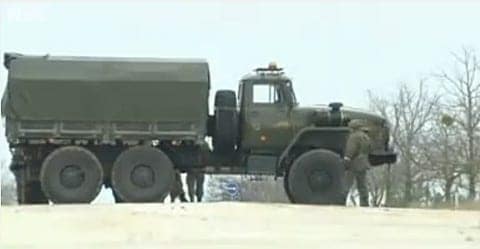 BY DAN PELESCHUK / GlobalPost
Analysis: Russia's lawmakers have just approved the deployment of military troops to Ukraine. But they're already there.
MOSCOW, Russia — Russia's upper house of parliament approved on Saturday President Vladimir Putin's proposal to send military forces to Ukraine, stoking fears of war in a country whose fragile, post-revolutionary authorities are still struggling to enforce nationwide order.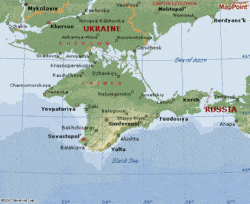 Moscow claims the measure is aimed at protecting Russian citizens in Crimea — a pro-Russian autonomous peninsula on the Black Sea that's threatening to split from Ukraine — as well as defending its key naval base there amid the political overhaul in Kyiv.
The move came after two days of intense speculation that the unidentified professional gunmen who'd seized two major airports and other strategic places in the region were acting under orders from the Kremlin.
Some experts suggest the approval was a mere formality amid what they say has been a swift and planned Russian incursion into Crimea aimed at further destabilizing a new Ukrainian government Moscow has refused to recognize.
"This is an occupation of Crimea under the guise of a peacekeeping operation," says Pavel Felgenhauer, a military analyst in Moscow.
The vote came hours after Crimea's newly installed prime minister called for Putin's help and announced he'd take full control of the region's police and security forces.
Local officials and residents of the peninsula, which is home to a majority ethnic Russian population, are frightened of a new government in Kyiv they've cast as "fascists" and "extremists."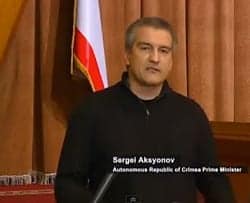 "All commanders are to fulfill only my orders and commands," Sergei Aksyonov, Crimea's prime minister, said in a televised statement Saturday. "I ask those who disagree to leave the service."
Kyiv's post-revolutionary government has accused Russia in recent days of staging an armed land grab, eliciting warnings from US President Barack Obama against a Russian intervention in Ukraine.
Photos of heavily armed and well-trained gunmen have widely circulated since Friday's troop build-up in Crimea. The uniformed forces' total lack of insignia or identification has left many observers wondering whom they're working for.
Russia's Foreign Ministry, meanwhile, said Friday it deployed troops — in accordance with its agreement with Ukraine — to guard its naval base in Sevastopol.
But Pavel Baev, a Russian foreign policy analyst at the Peace Research Institute Oslo, says the professionalism of the soldiers stationed in Simferopol — the regional capital where troops are occupying government buildings — is a dead giveaway.
"This in itself points very much toward Russian involvement from the very beginning," he said.
Felgenhauer, a noted security columnist with the opposition Novaya Gazeta newspaper in Moscow, adds that Russia may already be busy reinforcing its marines currently stationed in Sevastopol with armed elements from other parts of Russia.
"These are so-called peacekeeping units, which means that they are elite units prepared for expeditionary use outside the borders of Russia," he said.
The rapid-fire developments in Crimea, long home to pro-Russian separatist sentiments, were joined on Saturday by large pro-Russian demonstrations in Ukraine's eastern regions, where a Russian tri-color flag was reportedly raised above at least one local administration.
Ukraine's fledgling government already faces a monumental task bringing the country back from the brink of economic collapse just a week after President Viktor Yanukovych's ouster. Now, the simmering tensions threaten to throw the fledgling central government into deeper crisis.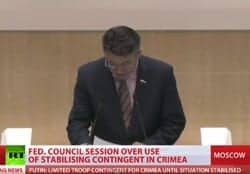 Meanwhile, the debate in Russia's upper legislative house, the Federation Council, coincided neatly with the official line broadcast on Russian state television since the Kyiv demonstrations turned violent earlier this year.
One by one, senators took to the podium to denounce the "fascist" threat — as well as the conniving Western countries that enabled it — emanating from Kyiv's new government.
Such assessments are largely dubious, analysts say, because even the most radical paramilitary group involved in the monthslong protests that overthrew Yanukovych announced it had no intention of sending its fighters to Crimea. (Shortly after the vote, however, that militant group, Right Sector, called for a nationwide mobilization.)
Ukrainian authorities, meanwhile, have slammed Russia's alleged incursion but have offered few signs they were willing to deploy their own military forces against the occupying gunmen.
After parliament's approval, boxing champ-turned-politician Vitali Klitschko — believed to be a top contender in May's presidential elections — also called for a national mobilization, including of Ukraine's armed forces. But even then, says military analyst Felgenhauer, "the Ukrainian military is in total disarray" after Yanukovych's ouster.
However, Russian officials and locals in Crimea believe the new Kyiv government, which is backed by a broad coalition of political and civic groups, poses a threat to stability to the region.
The Kremlin said Saturday that armed men from Kyiv had attempted to seize Crimea's Interior Ministry around midnight, but there appear to be no detailed reports on the alleged incident.
Critics say the move was part of a tried-and-true Kremlin tactic of creating pretexts for intervention in areas — such as Georgia in 2008 — it deems geopolitically valuable.
This time, some experts say, Moscow has moved even more aggressively than usual.
"There is no need to deploy these troops, because there is no threat to any military installation, to any friendlies, or to any Russian citizens," said Baev, the foreign policy researcher.
"The situation in Crimea, all in all, was peaceful and quiet," he added. "There were no clashes, and no threats that Kyiv would deploy forces to regain control."