Alan Cumming has acquired a script written by longtime activist and Towleroad columnist David Mixner and screenwriter Rich Burns, according to The Hollywood Reporter: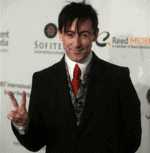 Cumming currently co-stars on TV's The Good Wife (for which he has garnered two Emmy nominations) and has done voice work in the recent Smurfs movies.
He, along with Geller, recently acquired the spec Dunes of Overveen, the true life story of Willem Arondeus and the bloody underground uprising of artists in Amsterdam during WWII against occupying Nazi forces. It was written by Rich Burns and David Mixner, a civil rights activist and best-selling author.
We'll look forward to seeing this come to life!