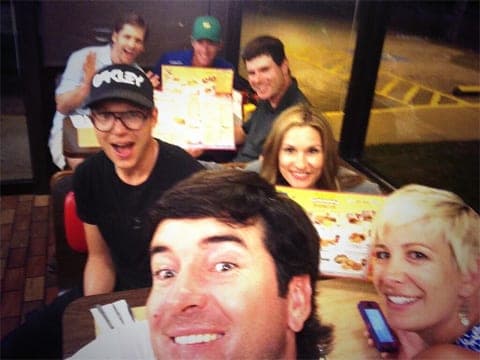 PGA Golfer Bubba Watson celebrated with a family dinner at Waffle House after winning the 2014 Masters tournament for the second time in three years over the weekend.
Outsports reminds us that he would have dinner with gay 'sinners' too, in a recollection of comments he made about Jason Collins last year:
"I've met Jason, said, 'Hey,' to him, because he used to play for the Suns when I had the Suns tickets. I respect anybody that's gay … I'm not saying I'm better than others. I'm not saying he's wrong. I'm saying I love him. If he called me right now and said, 'Hey,' or any person that was gay called me, I'd go to dinner with them any time. It's just my belief system on the Bible says you can't be gay. That's a sin. So somebody living in sin I believe to be wrong."
There are no openly gay golfers in the PGA. Thankfully there are some players, like Brandt Snedeker, with more evolved perspectives.