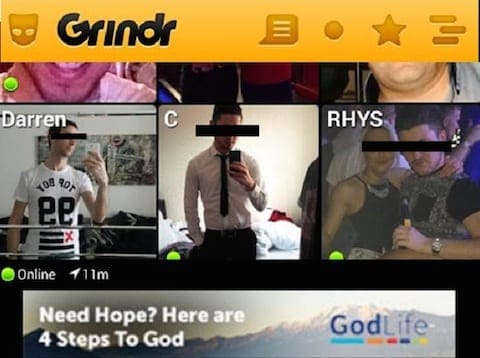 Aussie Grindr users were the recipients of some mistargeted advertising this past Easter when the "location-aware social networking application" began displaying banners for Godlife, an American 501 (c)3 non-profit evangelical outreach site. Writers for Same Same reached out to Godlife to enquire about evangelizing on a gay hookup app and whether it was an attempt at a "pray the gay away" style of attracting converts. An unnamed representative responded with:
Wow, we really are all over the world. We do not judge anyone. We simply want you to know the love of God and what His son did to save you from your sin.

I am not trying to change you from who you are at all. God made you just the way you are. He loves you that way so who am I to go against God's love. Happy Easter to you too. He has Risen! If you have any questions or need prayer about something in your life please let me know. God bless you and keep you safe from all harm.
So just a banner algorithm that wasn't particularly discerning, but it least it pulled from an accepting religious organization that apparently is gay-friendly. There are certainly worse ads that could have popped up.