Russia's annexation of Crimea last month was unsettling news for the region's LGBT community. The seizure meant that people in the Crimean peninsula were now subject to that country's much-talked about heinous anti-gay propaganda laws.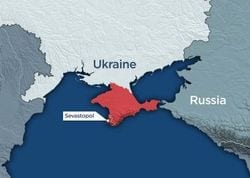 Intergroup On LGBT Rights reports:
Vitaly Milonov, Member of the Legislative Assembly of Saint Petersburg and co-author of the St. Petersburg anti-propaganda law, called for further measures to 'eradicate the experimental practice of sodomy'.

He suggested cracking down on LGBT organisations and clubs, setting up a 'morality police', and restricting the use of online social media in relation to LGBT issues.
We've already started to see the consequences. Last week's Pride parade in Sevastopol was banned as a result of the law.
Ukraine is seeing the effects as well: 
In the meantime, the Ukrainian government withdrew a bill which would have banned discrimination in the workplace, only to re-introduce the same bill without sexual orientation as a protected ground. The European Commission's report of November 2013 recalled that anti-discrimination measures, including sexual orientation, are a condition for visa liberalisation with the EU. A recent report by NASH MIR Center, a Ukrainian LGBT organisation, reveals that homophobia, transphobia and violence against LGBT people are still widespread.
An NBC News article interviewed several gays in Crimea, most of whom are forced to live a life in the closet.
At an anti-referendum rally in Simferopol one day before the vote, a man said he planned to move to Turkey as soon as he could save the money. "There is no democracy for people in Russia," he said in English. The demonstrator, Maxim Kornilov, later elaborated by email to NBC News, confiding that he is gay.

"Before Russian occupation it was really complicated to be a gay in Ukraine, that's why I'm still in a closet and feel like trapped," he continued. "Now it's absolutely unbearable." Twenty-nine years old, he works for a cultural exchange organization he says is financed by the U.S. embassy in Kiev. He lives with his mother, and hasn't told her he is gay.