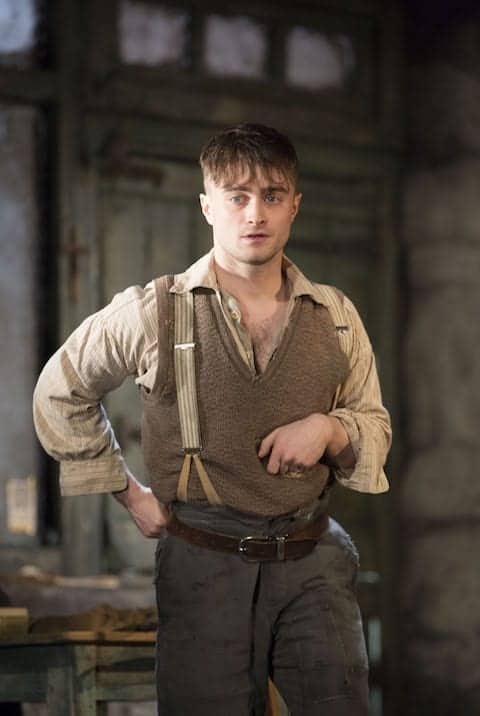 BY NAVEEN KUMAR
Swapping profanities reaches the level of high art in the first Broadway production of Martin McDonagh's Tony-nominated 1996 black comedy The Cripple of Inishmaan, which opened April 20 at the Cort Theatre. The show features an admirable performance by above-the-title star Daniel Radcliffe and expert work from the cast and creative team behind the production's acclaimed run on London's West End.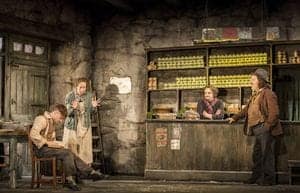 Set on a small group of islands off the western coast of Ireland, the story is based around the filming of an actual 1934 documentary Man of Aran, about daily life there. News of the film crew's arrival on a neighboring isle shakes up the insular community of Inishmaan—none more so than the one they call 'Cripple Billy' (Radcliffe), who's spent most of this life shuffling to and from the doctor (and, apparently, staring at cows).
Orphaned as a boy, Billy was raised by his biddy aunts Eileen (Gillian Hanna) and Kate (Ingrid Craige), who run a singularly modest general shop specializing in canned peas. They get their daily news from assiduous town gossip Johnnypateenmike (Pat Shortt) and their oft-broken eggs from the hot-tempered, acid-tongued young Helen (Sarah Greene). When Helen and her little brother Bartley (Connor MacNeill) arrange a boat passage with Babbybobby (Pádraic Delaney) to the film set, Billy hitches a ride with dreams of a Hollywood escape.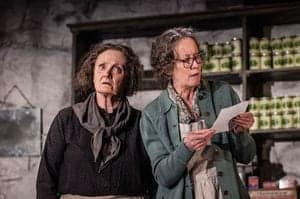 Artfully directed by Michael Grandage with beautifully artless set and costume design by regular collaborator Christopher Oram, the production propels through McDonaugh's rhythmic dialogue with precision timing, comedic and otherwise. Peppered with repetition and viciously creative insults, the play has a musicality that sings thanks to a gifted company.
Accepting Mr. Radcliffe as an ugly duckling may stretch your imagination, but his portrayal of Billy's physical deformity goes far to convince. Despite being the title character, Radcliffe plays one of the quieter roles on a stage full of outsized personalities, and turns in a sensitive, engrossing performance. As his pair of hand-wringing, occasionally daffy caregivers, Ms. Hanna and Ms. Craige may be the most entertaining odd couple of the season. And Ms. Greene and Mr. MacNeill provide stiff competition as warring brother and sister.
For all its bitter humor, a certain bleakness and cruelty hover over Inishmaan like fog off the sea. The place feels a lot like the edge of the world, and there's a looming temptation to peer right over and consider leaping off, for better or worse. Though it's hardly clear which would come to pass.
Recent theatre features…
James Franco and Chris O'Dowd Open On Broadway In 'Of Mice And Men:' REVIEW
Harvey Fierstein On Straight Men In Stockings And His New Broadway Play 'Casa Valentina': INTERVIEW
Woody Allen's 'Bullets Over Broadway' Musical Starring Zach Braff Opens On Broadway: REVIEW
Denzel Washington Opens in 'A Raisin in the Sun' On Broadway: REVIEW
Idina Menzel Opens In 'If/Then' On Broadway: REVIEW
Follow Naveen Kumar on Twitter: @Mr_NaveenKumar (photos:johan persson)