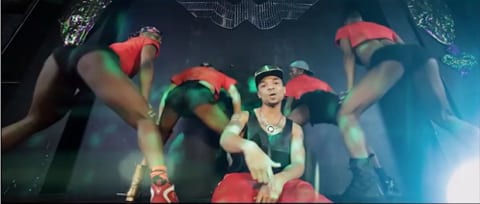 UPDATE: Fly Young Red has confirmed this as untrue on his Twitter account.
There are conflicting reports flying around regarding Fly Young Red — the young, gay rapper who recently released a video for his song "Throw That Boy Pussy." According to 24-Hour Hip-Hop, the rapper just signed onto rapper Lil' Wayne's music label Young Money Entertainment (also called Young Money Cash Money Billionaires or YMCMB):
With such blatantly vulgar and homosexually charged lyrics, an industry power-move such as his YMCMB signing is shocking. When asked for a comment, Young Money capo Lil' Wayne stated, "Good music is good music. Gay, straight, black, white, blue, or purple. Good music is just good music. Have you ever been in the club when that joint came on? Ni–as go crazy when that drop. I had to make him YMCMB."
When asked for his thoughts on the signing, Cash Money headman Birdman stated, "I support everything my young'n do. Young'n brought Red into the boardroom, we met behind closed doors, we spoke like men, we handled business like bosses. We ended up making him a offer he couldn't refuse. It's YMCMB forever, ya dig? We support Red movement and what he tryna accomplish. We definitely support the movement."
However, XXL Mag is reporting that YMCMB President Mack Maine has flatly denied that his label has in fact signed Fly Young Red to their label.
24-Hour Hip-Hop says that Fly Young Red declined to make any statements.