Last year, you may recall, a group of Illinois Republicans made an attempt to oust former Illinois GOP chair Pat Brady for his statements in support of marriage equality.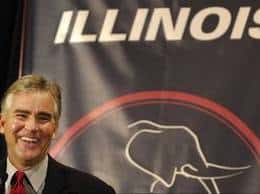 Six of seven Republicans who signed a letter to oust Brady have been replaced in their committee posts, according to the AP, while the seventh was re-elected to a new term.
The ideological shifts in the party's organizational structure come as Republicans in Illinois and nationally are working to expand and attract women and minority voters as they look to November.
In all, only seven of 18 committeemen were re-elected to new four-year terms.
"There were some people that have moved on that were great, and then there were others that were absolutely destructive and were not good for the party and they're gone," said Brady, who is no longer a member of the committee. "All in all, it was a good night, (bringing in) a lot of new blood."
The thinking mirrors that of Republicans in Nevada, who recently removed opposition to same-sex marriage and abortion from the party platform.