On March 30 Israel Defense Forces Manpower Directorate Commander Major General Orna Barbivai overturned a policy allowing Israeli soldiers to march in uniform in Pride parades.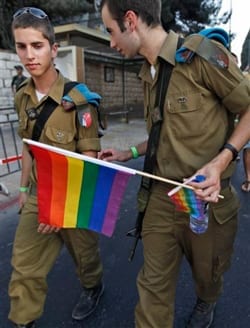 Soldiers will now have to march in civilian clothing. No explanation thus far has been given for the policy change.
According to GayAsiaNews:
The new ruling also states that it will allow soldiers to participate in such events provided they receive permission from their commanders.
Soldiers may only attend social protests that are not organized by a political party. They are also forbidden to participate in protests related to the army and its policies, or in anti-Israel protests.
The Israeli military accepts LGBT soldiers. However same-sex marriage is not legal in the country even though they recognize such marriages that occur elsewhere.
(image via Desert Peace Files)