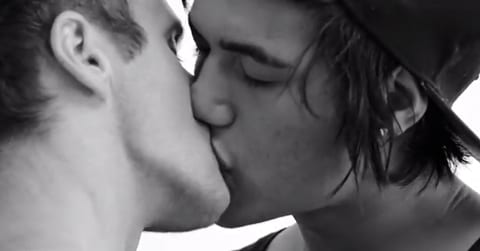 Pew has released a new survey that looks at global attitudes on eight topics often discussed as moral issues, homosexuality among them.
The survey found that homosexuality, along with gambling and extramarital affairs, were the three issues deemed "morally unacceptable" by the largest number of respondents.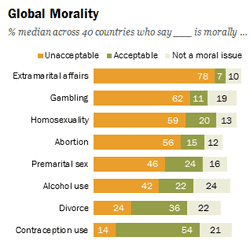 Pew reports:
Half or more in most of the 40 nations polled say that homosexuality is unacceptable. Nine-in-ten or more hold this view in seven nations. However, Europeans are much less likely to say homosexuality is unacceptable – this is especially true in Spain, Germany, the Czech Republic, France, Britain, and Italy, where about 20% or fewer express this opinion.
In the United States, 37% of respondents believe that homosexuality is "morally unacceptable," 23% believe it is "morally acceptable," and 35% believe homosexuality is not a issue of morality.
Perhaps unsurprisingly, the survey also found that Republicans are more likely to view many of these issues as unacceptable.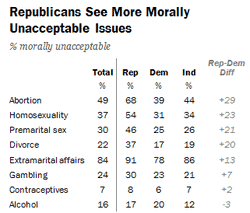 There are partisan divides in the U.S. on 5 of the 8 questions between Republicans and Democrats. This tracks with each party's views on social issues, with Republicans generally considered more socially conservative and Democrats as more socially liberal. For instance, while 68% of Republicans believed that abortion is morally unacceptable, only 39% of Democrats said the same. Similar gaps appeared on the issues of homosexuality, premarital sex, and divorce. There was a smaller partisan gap on extramarital affairs, with little partisan differences on gambling, contraceptives, and alcohol — all of which are generally seen as morally acceptable or not a moral issue by Republicans, Democrats, and independents.
Check out all the survey's findings here.