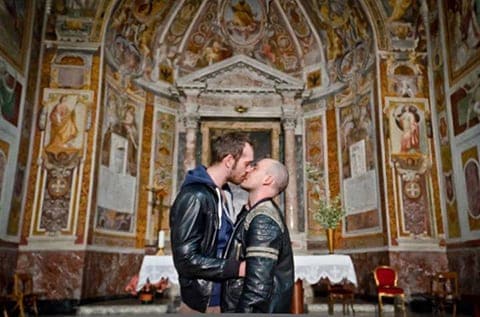 When Rome's Galleria L'Opera tried to artist Gonzalo Orquin's photographs of gay, lesbian and straight couples kissing in Rome's Catholic churches, the Vatican threatened legal action and had the showing stopped (the opera cited "security reasons").
But it looks like those photos will still get a showing in Manhattan's Leslie-Lohman Museum of Gay and Lesbian Art on April 30.
The New York Daily News reports:
The photos were taken without permission from the churches involved. A Vatican spokesman claimed the photos could "harm the religious sentiment of the faithful."
Another exhibition from Orquin — this time showing a woman dressed like a priest — was later vandalized.
But in New York, Orquin's work is receiving a warm welcome. It will be featured in the SoHo-based museum's window gallery and will be visible to passersby on the street.
Leslie-Lohman Museum Director Hunter O'Hanian said of Orquin's church photos, "These were very beautiful, simple portraits of same-sex couples in a space that they held sacred and important to them. I hope visitors [who see them] leave with a wonderful feeling of compassion and humanity."