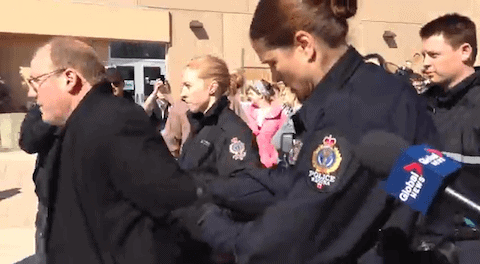 Anti-gay activist Peter LaBarbera left Canada a day after being released from jail following his arrest at the University of Regina. Apparently LaBarbera and fellow anti-gay hatemonger anti-abortion activist Bill Whatcott were planning to hit the University of Saskatchewan with their homophobic nonsense, but decided not to get arrested again.
LaBarbera, 51, was questioned by Canadian border officials Tuesday morning following his arrest on the University of Regina campus a day earlier. LaBarbera and fellow activist Bill Whatcott were escorted off university property and charged with mischief Monday afternoon.
The university learned the men were on the property around 12:30 p.m., and they were asked to leave the campus several times. LaBarbera and Whatcott were displaying materials the university described as "graphic" and against the institution's policy.
LaBarbera planned to hit up a right-wing talk show this afternoon to "discuss the Gay Thought Police in Canada and their American defenders."