Attorney Charles Cooper, who argued for 'Protect Marriage in the Proposition 8 case, says he learned during the trial that his daughter is gay and he's now helping plan her wedding, the AP reports: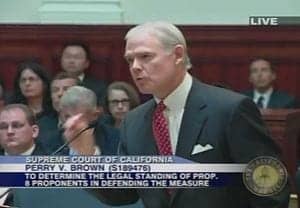 Attorney Charles Cooper says his view of same-sex marriage is evolving after having argued in court that gay unions could undermine marriages between a man and a woman.
The revelation is an unexpected footnote in the years-long debate over Proposition 8, the California measure struck down by the Supreme Court last year. It is also offers a glimpse, through the eyes of one family, of the country's rapidly shifting opinions of gay marriage, with most public polls now showing majorities in favour of allowing the unions.
Said Cooper:
"My views evolve on issues of this kind the same way as other people's do, and how I view this down the road may not be the way I view it now, or how I viewed it ten years ago," Cooper said in journalist Jo Becker's book "Forcing the Spring: Inside the Fight for Marriage Equality."
The AP adds:
In a statement to The Associated Press, Cooper said his family "is typical of families all across America."
"My daughter Ashley's path in life has led her to happiness with a lovely young woman named Casey, and our family and Casey's family are looking forward to celebrating their marriage in just a few weeks," he said.