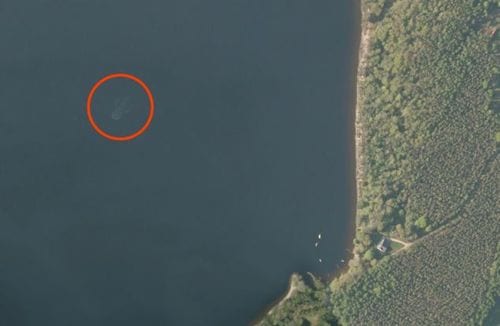 A faint shape discovered on Apple's satellite maps is reviving interest in Scotland's mythical Loch Ness Monster after two people reported the smudge, which looks to the active imagination like a large marine animal with two protruding fins.
The UK tabloid Daily Mail reports:
For six months the image has been studied by experts at the Official Loch Ness Monster Fan Club, where excitement is mounting after various explanations for it were ruled out… leaving them to conclude it is 'likely' to be the elusive beast.
One of the spotters, Andrew Dixon, 26, a charity worker for the Great North Air Ambulance, from Darlington, County Durham, said: 'It was a total fluke that I found it. I was looking at satellite images of my town and then just thought I'd have a look at Loch Ness.
'The first thing that came into my head when I saw it was, "That's the Loch Ness Monster". It was the shape of it, I thought it had to be something more than a shadow.
'It was exciting. I've never been to Loch Ness but I'm always interested in that sort of stuff.'