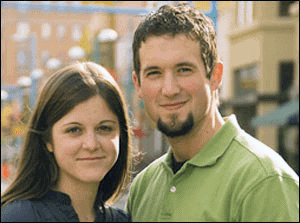 The U.S. Supreme Court announced on Monday that it would not take up the case involving Elaine and Jonathan Huguenin (pictured), who refused to photograph the commitment ceremony of Vanessa Willock, a resident of Albuquerque, on the grounds that same-sex marriage conflicts with Christian beliefs.
The New Mexico Supreme Court had ruled that Elane Photography was violating the antidiscrimination provisions of the New Mexico Human Rights Act in August.
In orders published Monday morning, the court listed the case, Elane Photography v. Willock, without comment among as the cases it won't consider.
The case was brought to the Supreme Court by Elane Photography, which was found to have violated New Mexico's anti-discrimination law for refusing to take a photo for the same-sex wedding ceremony for Vanessa Willock and Misti Collinsworth in 2006. (The wedding was only ceremonial because the incident took place before the state legalized same-sex marriage.)
Elane Photography filed lawsuit in state court, alleging that its refusal to photograph a same-sex wedding is protected on religious grounds. However, the New Mexico Supreme Court ruled against the claims, saying the businesses service can be regulated because it's a public accommodation. Following that decision, Elane Photography asked the U.S. Supreme Court to consider the lawsuit based on First Amendment protections under the U.S. Constitution.