BY KYLER GEOFFROY
A round-up of the best tech, science, and geek-related news from around the web.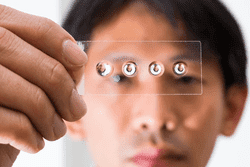 This oven-baked lens costs less than a penny and can turn your smartphone into a microscope.  

 The future of photography is here. "Unlike other cameras, which essentially capture a 2-D approximation of a scene, the Illum's lens takes in the 4-D light field and renders that data into a manipulatable, interactive image. This means you can take a picture, and then refocus or shift the perspective slightly."

 The cast for Star Wars Episode VII has finally been revealed.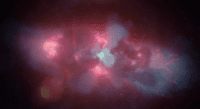 The Department of Homeland Security is advising computer users to refrain from using Internet Explorer until a fix is found for a serious security flaw that allows hackers to control your PC.

 Is Apple gearing up for a Paypal/Google Wallet-style mobille payment service?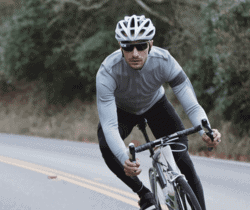 The limitless posibilities of Google Glass and the wearables revolution. "Bicyclists will use info-glasses as a heads-up display for everything from road speed and map route to heart rate and glucose levels…Parents who are out to dinner will be able to discretely listen in on the baby monitor back home or view streaming video off a bedroom webcam…imagine an app that uses face recognition to tell you the name of the acquaintance walking toward you and your spouse at a cocktail party, sparing everyone the embarrassment of a fumbled introduction." 

 Cosmos explores the birth, death and chemical composition of stars.

 Wired looks at the budding relationship between Silicon Valley entreprenurs and the cannabis industry. "For the science and technology set, it's a classic opportunity to disrupt an industry historically run by hippies and gangsters. And the entire tech-industrial complex is getting in on the action: investors, entrepreneurs, biotechnologists, scientists, industrial designers, electrical engineers, data analysts, software developers. Industry types with experience at Apple and Juniper and Silicon Valley Bank and Zynga and all manner of other companies are flocking to cannabis with the hopes of creating a breakout product for a burgeoning legitimate industry."

 We all know how frustrating it is trying to watch a movie over a laggy internet connection. But what if your entire life was lagged? Enter Oculus Rift and Swedish internet provider ume.net: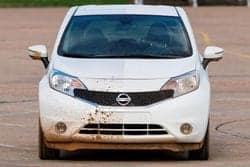 Does Nissan's first self-cleaning vehicle mean that car washes will soon go the way of the record store? "The [car's] paint, developed by engineers at the Nissan Technical Centre in the UK, is hydrophobic and oleophobic. That means it repels water and oil. That means the gunk and goo that normally sticks to your ride slides right off. It's like wax, but better. Nissan's engineers have applied the finish, called Ultra-Ever Dry, to a Nissan Note and say it does a remarkable job repelling rain, spray, frost, sleet and standing water. If the video is to be believed, mud literally slides right off." 

 In other automobile news, Google's self-driving cars now demonstrate an impressive understanding of cyclists' gestures and pedestrian behavior.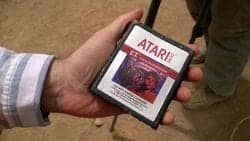 The Holy Grail of video game artifacts has been found. "Digging in Alamogordo, New Mexico [Saturday], excavators discovered cartridges for the critically-panned Atari game E.T., buried in a landfill way back in 1983 after Atari couldn't figure out what else to do with their unsold copies. For decades, legend had it that Atari put millions of E.T. cartridges in the ground, though some skeptics have wondered whether such an extraordinary event actually happened."

 SpaceX shows off controlled Falcon 9 rocket soft landing, a possibe laying of the groundwork for the company's long-term goal of bringing humans to Mars.