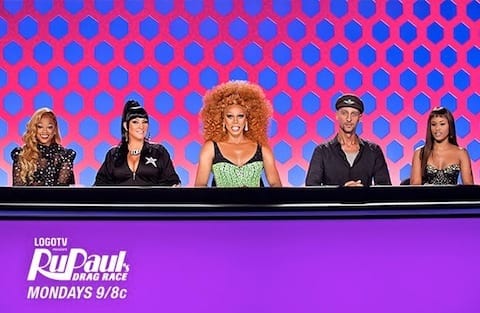 Before they rapped, the girls had to read. Ru opened the library for the mini challenge, passing around the reading glasses so that each queen could trade barbs with her competitors. Darienne took top honors and got to choose her team for this week's main challenge. In two groups, the girls had to each deliver a short rap which would be collected together in the video for '90s-style rap song, "Oh No She Better Don't." On the runway, the queens had to show off their crazy, sexy, cool fashion. Rappers Eve and Trina coached the girls in the videoshoot and joined the judging panel.
Here's our Power Rankings:
1. Enjoy the top spot while you can, Adore. She absolutely owned the '90s rap challenge (everyone knows the '90s were all about overalls), but if she continues to ignore Michelle Visage's critiques, she will not be long for this competition. Just shorten that skirt! Or lengthen it! Either way! I also thought Adore's reads were good, particularly telling Laganja to reverse her death drop "and drop dead."
2. Behold the softer side of Bianca. She displayed a rare glimpse of vulnerability offering Trinity support after Ms. Bonet shared that she's HIV-positive. I also love the mother-daughter relationship with Adore. (I particularly loved when Adore said Bianca was everything she wanted to be when she's 57.) That doesn't mean Adore was safe when Bianca read the girls in the mini challenge. ("I know what you got on your SATs — ketchup.") Her rap performance was strong, but I was happier to see a runway look that didn't riff on old Hollywood glamour. I'm a fan of the hard white line on the eyes, personally, but the overall look was super polished and served some "Love Don't Cost A Thing" J. Lo realness.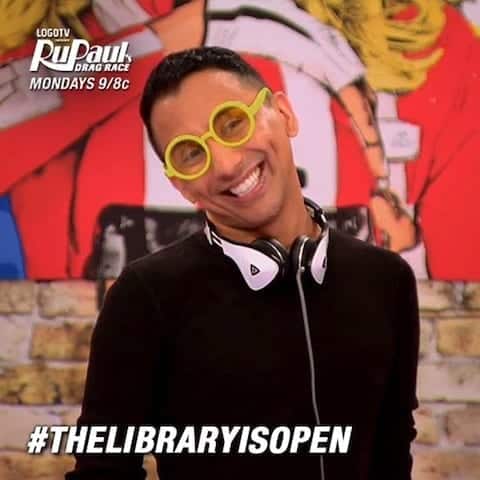 3. Finally, Joslyn Fox is starting to shine. This sleeper queen has dropped hints that she could be a top competitor for weeks, so it's good to see some of that potential realized. She read Darienne to proper filth with "This is the girl who probably sits reverse cowgirl on the toilet just so she has a flat surface to eat off of." The rap look and performance were solid, but the runway was just a mess. She needs to look into the mirror before she leaves and take one thing off. Then one more. And probably another, just to be safe.
4. A small fall from grace this week for fan-favorite BenDeLaCreme. I don't see the raging egomaniac that Darienne does. I tend to believe that Darienne is a little intimidated. Maybe I'm putting too much faith in Bianca to be the audience's proxy, but if DeLa really was that much of a monster, wouldn't Bianca have called her out on it by now? Ben was better at the rap than we were originally led to believe (and how adorable was Ben in the interview saying "Creminem is in the hizzy fo' shizzy, boiiii?"), but her runway look was all wrong. There was nothing crazy, sexy or cool about it.
5. I've been saying for weeks that Courtney Act's been relying on pretty, so I'm glad to see that affirmed by the judges. Oddly enough, I actually thought her duvet-for-pay ensemble and reveal tonight were quite clever. It would be nice to see a look that wasn't so dependent on all the body-ody-ody.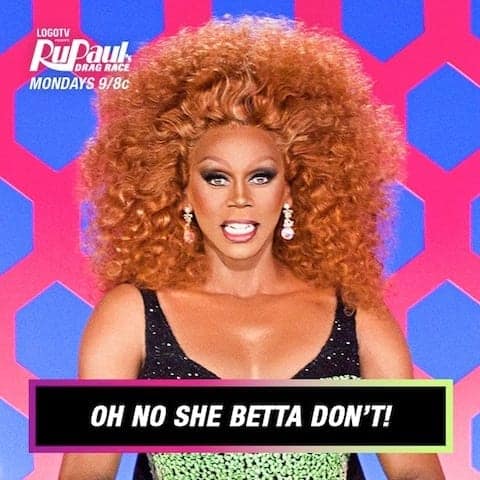 6. GO HOME, LAGANJA. GO HOME. Not only were her reads abysmal, but her look for he rap video was like Rob Zombie directing Janet Jackson in Poetic Justice. It was like a scary Lord Licorice from Candy Land. It was gross. She is seriously the worst. The most unlikable queen in Drag Race herstory? I think she might be.
7. Farewell, Milk. Your rap was not nearly as bad as Darienne's or Trinity's. That skirt was a mess, though. It's a shame, because I think we've seen all we're going to get from Darienne and Trinity, but I bet there are so many more surprises Milk could have shared.
8. It may seem contradictory for me to be so in love with Bianca Del Rio and then knock Darienne for being so hateful. It's not that I don't love it when the kittens get catty, but they need to at least be clever about it. While Bianca is a straight-shooter and goes for the comedy, Darienne just seems mean-spirited. As I said earlier, it feels like her vendetta for DeLa is driven much more by her own insecurities. By far, Darienne delivered the worst rap of the night. Milk may have sashayed away, but I thought Darienne was much more rancid.
9. Speaking of sashaying away … how much longer can Trinity hold on by the skin of her flipper? Trinity was excited for this challenge, until she flopped. Then, this was yet another thing outside Trinity's comfort zone (which is proving to be increasingly small each week). Her hippie runway look was more Lisa K. Bonet, and I just wasn't feeling the lip sync. Sure, it's a matter of personal preference, but I'm not a fan of such a "realistic" lip sync. If you're going to play it straight, you've got to amp up the choreography. She just stood there and mugged. There wasn't much performance there.
Next week: TWO new back-to-back episodes, including a challenge that pairs the girls up to sell Ru's new makeup line.
How would you rank the queens this week?