BY LISA KEEN / Keen News Service
HOUSTON'S PARKER GOES LONG: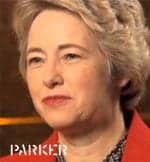 Houston's openly lesbian Mayor Annise Parker announced Monday that she is introducing a bill to city council that will prohibit discrimination based on race, color, religion, national origin, sex, age, disability, sexual orientation, and gender identity. The bill covers housing, city employment and contracts, and private employment for non-religious employers and companies with fewer than 50 employees. Parker had taken some heat recently when LGBT leaders believed she would propose a human rights ordinance that would prohibit discrimination based on sexual orientation in housing and public accommodations but not in private employment.
LOG CABIN GETS MAJOR BOOST:

A trade group that represents such consumer technology giants as Google, Apple, and Microsoft announced Monday it will provide "financial support" to the national Log Cabin Republicans. Consumer Electronics Association (CEA) President Gary Shapiro said he was "very proud of CEA's groundbreaking financial support" for Log Cabin. "Our visible announcement," said Shapiro, "proves that trade associations want lawmakers and policies that recognize the economic value of hiring the best and brightest minds, regardless of sexual orientation." Shapiro did not disclose how much financial support CEA is giving Log Cabin or for how long. Log Cabin Executive Director Gregory Angelo said it was "great news" for his group, but he declined to discuss the numbers.
MILK STAMP UNVEILED: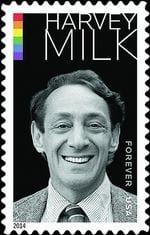 The U.S. Postal Service revealed its design for the "forever" stamp honoring openly gay San Francisco Supervisor Harvey Milk Monday. The stamp includes a familiar close-up photo of Milk with a strip of rainbow colors in the top left-hand corner, along with his name across the top. The stamp will be officially recognized in a first-day-of-issue ceremony at the White House May 22.
PENNSYLVANIA RUSHING ALONG:
Lawyers pressing one of five lawsuits against Pennsylvania's ban on same-sex couples marrying has asked a federal judge in Harrisburg to forego a trial and, instead, make a decision based on briefs. TheACLU organized the lawsuit Whitewood v. Wolf on behalf of 11 couples who want to marry in Pennsylvania or have their marriage licenses from another state accepted by Pennsylvania. The ACLU said a trial became unnecessary after the state indicated it would call no witnesses to defend the ban. The state is not contesting the request for a decision based on the briefs and final briefs are due May 12, says the ACLU.
WHITE HOUSE COUNSEL STEPPING DOWN: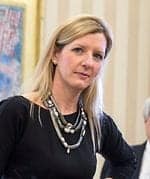 The White House Monday announced President Obama has hired a new White House counsel: a former Clinton White House attorney, W. Neil Eggleston. Eggleston, whose focus has been primarily on Congressional investigations and corporate issues, will likely be a step down on LGBT issues. A New York Times profile April 6, credited Kathryn Ruemmler, the outgoing White House counsel, with having "helped develop an administration legal analysis about discrimination against gay people that was highly sympathetic to their rights." The Times said Ruemmler's analysis "formed the basis for Mr. Obama's increasingly assertive backing or same-sex marriage rights."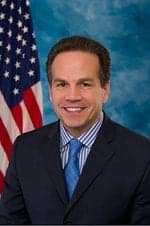 CICILLINE MEETS IN UKRAINE:
Openly gay U.S. Rep. David Cicilline (D-R.Is.) is one of eight members of the House Foreign Relations Committee in Ukraine to show U.S. support for Ukraine's effort to remain independent of Russia. Cicilline and the others met with Vice President Joe Biden last night to discuss unrest in the region.
SINEMA FINISHES BOSTON IN 4:32: Openly bisexual U.S. Rep. Kyrsten Sinema (D-Ariz.) finished the Boston Marathon yesterday with a time of 4:32:32.
© 2014 Keen News Service. All rights reserved.