Uganda plans to step up efforts to clamp down on gays by barring NGOs from promoting homosexuality, Reuters reports: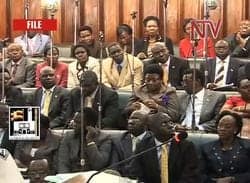 The draft, now being studied by the cabinet before being introduced in parliament, would also ban foreign NGOs from meddling in the east African country's politics, junior internal affairs minister James Baba told Reuters on Monday.
Critics say the legislation will further erode civil liberties and entrench a climate of oppression and political intolerance already evolving ahead of 2016 polls in which veteran leader, Yoweri Museveni, is expected to stand.
The new law would place new tighten financial ruies on NGOs that would limit their ability to criticize the government's draconian anti-gay laws.
Said lawyer Nicholas Opiyo to Reuters:
"What is happening is that rather than use brute force, Museveni's politics is increasingly dependent on use of money to win elections…So in order for them to have a free hand in spending public resources to buy votes in the next election, what do you do? You begin to restrict NGOs."